How Durapak Biocell LAC Works
Biocell Lac has been developed specifically for daily mixing into liquid milk or milk replacer. The Live Yeast is incorporated into a lactose base for palatability and easy mixing. Biocell Lac increases the number and activity of specific beneficial bacteria and competes with pathogenic organisms for adhesion sites on the intestinal gut wall. Briefly, Biocell Lac reduces digestive problems by preventing the growth of pathogenic agents in calves and also in lambs.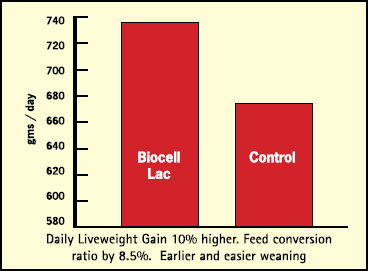 Packaging
Biocell is packed in 5kg plastic tubs. 1,000 treatments - enough to rear 24 calves for 6 weeks. Biocell Lac is also available with a natural coccidiostat.
It is recommended to store Biocell Lac in a cool, dry place. The product is non-hazardous and safe.
Feeding Rates
Calves: 5g per calf per day (or 2 x 2.5g twice a day if preferred )
Lambs: 2g per lamb per day
Biocell Lac can be included in all diets and will mix easily into all types of milk. This included fresh cows milk, warm / cold powdered milk, also in automatic or bucket feed systems.
Biocell Lac is also available with a naturally occuring coccidiostat called Immuno-Herb. This can be used in farms where coccidiosis has been a problem in the past. The feeding rates have doubled the standard product rates.
What Our Customers Say
General health of the calves has improved. We had less scour, calves thrive better and are going onto their ration quicker since we started feeding Biocell Lac.
Alan Brown Rylane, Cork
Since we started feeding Biocell Lac, we have less sick calves, less scour and even where we do, the calves recover much faster. The calves are healthier and look good with plenty bloom. I like Biocell Lac because it's a natural product compared with acid.
Conor Desmond Berrings, Cork
The calves have never looked better. We have only had 3 calves scour in the last 18 months. The calves thrive all the time.
Allistair Love Ayrshire