Why Durapak Cubicle Mats?
Durapak Cubicle Mats are made from Ethyl-Vinyl-Acetate (EVA) which is a non-porous polymer providing a soft, warm, comfortable cubicle mat for all livestock including cows, weanlings, pigs and horses. All animals spend more time lying in cubicles without mats. Independent researchers working with cows have discovered that cows spent more time in cubicles which contained mats. It was found that cubicles with mats were re-occupied very quickly after a cow had left. This meant that a cubicle with mats was used over four times each night compared to twice for the cubicles without mats.
Specifications for Durapak Mats
Thickness 18-20mm
Munster Mat
104cm x 170cm (3'5" x 5'7") approx.
Thickness 20-22cm
Duramat 2010
109cm x 180cm (3'7" x 6")
Duramat 2010
114cm x 180cm (3'9" x 6")
Duramat 2010
120cm x 180cm (3'11" x 6' )
Thickness 30mm
Link Mat 4 sided
117cm x 180cm (3'10" x 6')
Link Mat 2 sided
117cm x 180cm (3'10" x 6')
Jumbo Mat
114cm x 180cm (3'9" x 6')

Important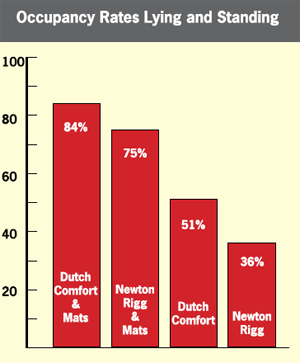 Durapak Agri supply a large range of mat sizes and thickness to suit your particular needs. Mats can be cut to suit size or cubicle. Mat fixings also supplied.
Fixings include:
Galvanised Plate; Zinc coated coach screw; Plug.
Plate Dimensions:
150mm Long / 50mm Wide / 9.5mm Deep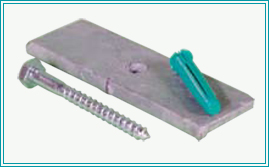 Also Available - Rubber Mats
Rubber Mats - Main Features
Made from natural rubber
Interlocking
Heavy
Size 3'9" x 6'
Rubber Mats - Main Benefits
Does not spread
Easy to install
Economy option
What Our Customers Say
The Durapak Link or Jumbo Mat has greatly increased cubicle occupancy on our farm and is far ahead of the rubber mats which we used in the past.
John Gash Minane Bridge, Cork
The Durapak Mats are trouble free and we find them great to train young animals to use the cubicle, They are as good as the day we put them in 7 years ago.
Paddy Owen Leonard Baltimore, West Cork
The Durapak Mats have increased our cubicle occupancy and the mats seem to be going to last a long time as they are wearing very well.
Michael Darcy Killick, Co.Wexford